2009 and before

The Tok Sen ancient Thai Massage training offered by ITM and Sabaaydi Netherlands

17-26 october 2009

18 CAPT students gave Thai Massages to 35 senior citizens at Piyamal Elderly Service Center

18 December 2008

Foreign students teach Thai massage to disadvantaged kids 007

September 13-14, 2008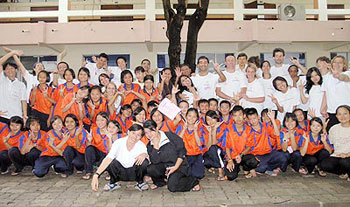 Students and teachers at Suksa Song Kroh School
with the ITM foreign students and their teachers.
George Powell
During the weekend of September 13/14, the International Training Massage School (ITM) visited Suksa Song Kroh School in Chiang Mai with the aim of teaching disadvantaged kids the art of Thai Massage.

Suksa Song Kroh School, located near Nakornping Hospital, looks after 960 children from various backgrounds. Some are from Hill Tribe villages, some from poor Thai families, some are orphans and some have social problems. Also housed are children who have been in trouble with the law and are awaiting their sentences. Adisorn Phuangtong, the director of the school, is committed to teaching the children skills which will be of use to them in their adult lives as well as delivering the basic curriculum. Traditional Thai massage and other trainings will enable students to find jobs when they leave the school.

ITM holds various courses, including teacher training, at their centre on Morakot Road, Hai Yaek Santitham, Chiang Mai. For the weekend visit to the school, 4 teachers and 18 foreign students who were just finishing their courses were invited along for an opportunity to use the knowledge they had gained in order to teach Thai Massage to 32 kids. The weekend proved so popular that four of the teachers from the school became willing students along with the kids. As Kate, who organised the event, said, 'It's great to give something back – everyone is happy. Plus, hopefully, we have given some of these kids a future.'

From Chiang Mai Mail
Vol. VII No. 39 - Tuesday
September 23 - September 29, 2008




Schedule and annual holidays 2007
Special "Before Song Kran" classes

Sunday 8 - Thursday 12 April, 2007
Song Kran Water festival holidays

13 - 15 April, 2007
Annual holidays

22 - 30 September, 2007

ITM demonstrations at "International Congress of Applied Aesthetic and Cosmetologie" and training in Ukraine, October' 05

ITM senior teachers were invited to perform the ancient art of Thai massage at the International Congress of Applied Aesthetic and Cosmetologie "Les Novelles Esthetiques 2005" in Kiev, Ukraine. The demonstration got great feedbacks from the audiences, most of them professional massage therapists, doctors, and aestheticians.


Following the congress was the Thai massage course offered by ITM and Inmaster Ukraine – Institut de Massage Therapies Manuals.





Special group from USA received advanced training at ITM, September' 05

A group of professional massage therapists from East – West College of the Healing arts, Oregon, USA attended the Advanced Therapeutic course. Everyone enjoyed the training and the school.





Self-massage training for Thai sewing community, September' 05

ITM was invited to teach 'self massage' to people in the sewing community in three villages around Chiang Mai. Having stiffness and pains in certain parts of the body from long-hour working, these people needed some exercises to help them relax their joints and muscles. ITM trained them to do self massage and yogic stretching movements.





ITM trained professional massage therapists of Hyatt Regency Delhi Hotel in India, May 2005.

ITM had been honorably invited to teach Thai traditional masssage to the massage therapists of Hyatt Regency Delhi Hotel in India. The participants including Mrs. Elizabeth Truernit, a spa professional, were in awe of the wonderful healing art of THai massage. Club Oympus Spa of Hyatt Regency Delhi will soon introduce ITM style Thai massage treatment to its exclusive treatment services. This strengthens the international presence of ITM in the professional world of Thai massage.





ITM senior teachers visited ITM Japan Network in Tokyo, Japan, April 2005.

ITM Japan Network members from all over Japan were glad to welcome ITM Thailand Director, Chongkol Setthakorn, and ITM main teachers to Japan. ITM seniors had visited some of ITM schools in Tokyo and had a nice traditional Japanese dinner together with ITM Japan Network members.





ITM was invited to teach at the Metropolitan Hotel, Bangkok
During November and December 2003, Mr Chongkol Setthakorn was invited by the newly opened Metropolitan Hotel in Bangkok as a guest demonstrator to train their massage therapists. After the Thai massage training, as requested, Chongkol performed demonstrations of his acclaimed one hour Thai massage sessions to the hotel's experienced therapists. This is the consequences of the previous cooperation between ITM and Mrs. Christina Ong, the owner of COMO Hotels and Resorts.







'Nuad Bo-Rarn' Thai massage course in Switzerland, June 2003

ITM proudly presented the ancient healing art of Thai massage in Geneva, Switzerland. Students from all around Switzerland attended this intensive Level

I

and

II

courses.